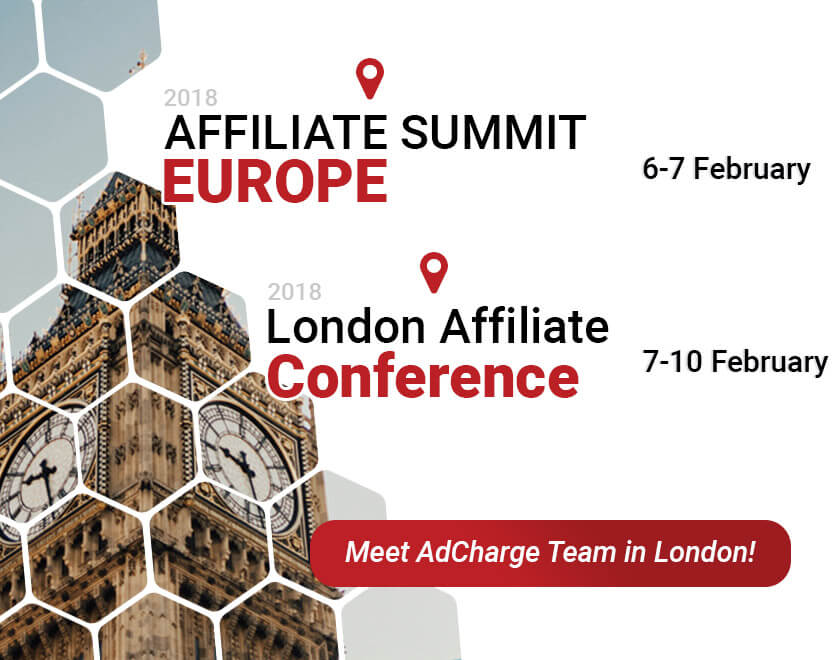 AdCharge Team is going to London in February, where we will be attending two important events:
Affiliate Summit Europe
The Affiliate Summit Europe has been a top event in the affiliate marketing industry since 2003. We are thrilled to present our brand-new media platform and will be happy to lay the foundation for future partnerships and affiliations with other major players in the advertising industry.
London Affiliate Conference
As soon as this event is over our Team will join the next one – London Affiliate Conference. This event is dedicated specifically to the gaming affiliate industry, gathering together more than 5 000 delegates.
These two conferences are a great opportunity for us to present our revolutionary mobile advertising model – AdCharge. AdCharge is an innovative media platform for mobile advertising that unites the interests of advertisers, telecoms and end users. It displays ads with incoming and outgoing calls – the mobile prime time! Еnd users are rewarded for clicking and viewing ads, while telecoms are able to increase the loyalty of their subscribers, adding extra value to their operator services.
We will be happy to find new business connections with advertisers and offer our CPI, CPM, and CPC, traffic models.
For more information visit adcharge.eu or send us an email at info@adcharge.eu
AdCharge team is looking forward to meeting you!