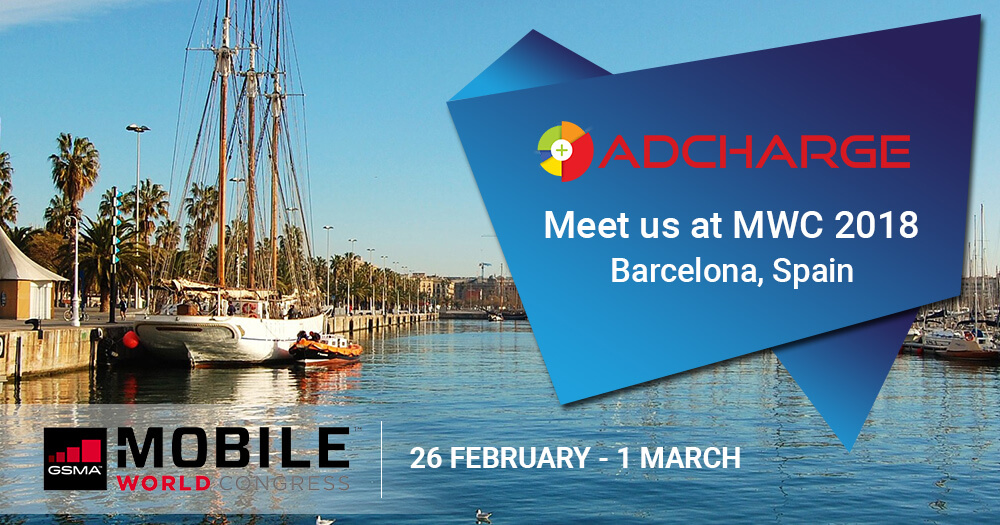 AdCharge Team is going to Barcelona to attend one of the biggest mobile industry events – the Mobile World Congress 2018 (MWC). The conference takes place on 26 February – 1 March 2018 at the Fira Gran Via and Fira Montjuïc, Barcelona, Spain.
About AdCharge
AdCharge is an innovative Media Platform for mobile advertising that unites the interests of telecoms, advertisers and end users. How does it work? Advertisers place their marketing campaigns signed up in the AdCharge Network. Banners are displayed with subscribers' incoming and/or outgoing calls. Consequently, telecoms receive their revenue share, whereas the subscribers are rewarded for viewing and clicking on the ads as well as installing the apps. A "Win-Win" solution as we like to call it!
Also, we recently released the latest version of the AdCharge Platform which is now packed with completely revamped mechanisms allowing operators to receive all essential reports and statistics in one place.
Constantly growing
Currently, the AdCharge Network is rapidly growing and attracts more and more advertisers and subscribers from all over the world. Mobile operators and MVNOs are welcome to join our Network and take advantage of amazing benefits such as:
New source of income
More value to operator services
Customer loyalty boost
Subscriber base increase
But that's not all. There is no initial investment needed from your side, neither are there any specific technical requirements. The launch is quick and easy and the implementation is done through an API.
If you want to book a meeting with our Team at MWC or have any inquiries, please contact Peter Videnov, Business Development Manager at AdCharge, at peter@adcharge.eu.